Since July 2022, shipping line G2 Ocean's inbound and outbound North American service has been calling at the port of Brake, Germany. The carrier has now affirmed its cooperation with terminal provider J. Müller having signed a strategic partnership agreement.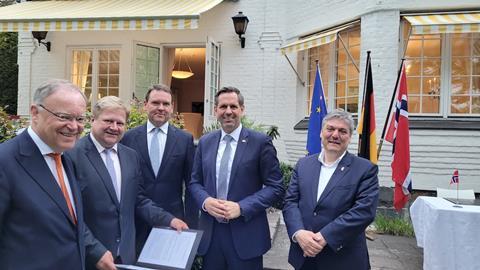 J. Müller is the port service provider for all of the shipping company's handling activities at Brake. The focus is on breakbulk, particularly forestry products, iron, and steel – which is mainly handled at the Niedersachsenkai terminal to the north of the port.
Arthur English, ceo at G2 Ocean, said: "We are committed to providing the safest, most reliable, effective and sustainable shipping services to our customers. By choosing the port of Brake, we are pooling our logistics expertise and are in an ideal position to serve our customers there, while continuing to expand our business."
100 employees have been hired to handle the growing volume of breakbulk at Niedersachsenkai. In addition, a EUR4.5 million (USD4.85 million) investment has been made in an additional 68,000 sq m outdoor storage area, as well as in cargo handling equipment and industrial trucks (EUR5 million/USD5.4 million). The company had pre-existing 30,000 sq m of covered storage next to deepwater berths at Niedersachsenkai.
Jens Ripken, chief operating officer at J. Müller, added: "Germany as a business location needs efficient import and export interfaces so that industry and trade are put in a logistically competitive position on the global market. Looking ahead, the port of Brake can make a significant contribution to taking even more traffic off the roads and thereby help improve CO2 emissions. To achieve these goals, work on the shipping channel of the Weser and also an additional berth at the Brake site are necessary. The larger vessels of the future must be able to call at Brake when they are fully loaded."