J M Baxi Group has signed an agreement to acquire Allcargo Logistics' project forwarding and logistics business and provided a binding offer to acquire Lift & Shift India's heavy and over-dimensional cargo logistics business.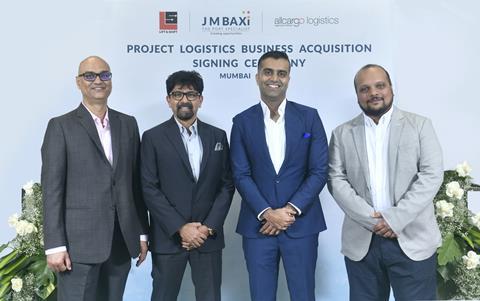 Lift and Shift has accepted the binding offer, which is subject to the execution of a definitive agreement for the business transfer between the parties.
Both acquisitions are expected to be completed in the coming weeks. Once completed will operate as J M Baxi Heavy, a wholly owned subsidiary of J M Baxi Ports & Logistics.
Lift & Shift provides specialised engineered logistics services for the petrochemicals, hydrocarbon, fertilisers, renewable energy, power generation, civil construction, large scale manufacturing and offshore oil and gas industries. Allcargo's project forwarding and logistics business will add to J M Baxi Heavy's existing network with enhanced geographical presence in the Indian Subcontinent and Africa.
Dhruv Kotak, managing director of J M Baxi Group, said: "The Indian economy has strong fundamentals for growth, and this acquisition comes at a time where there is an upsurge in capital expenditure in various sectors in the country. We are just beginning to see the cycle turn. The next decade will see momentum in demand bolstered by the National Infrastructure Pipeline with a size of USD1.5 trillion. The acquisition of the two business divisions of Allcargo and Lift & Shift will add immense value, weave in synergies with the current line of business at J M Baxi Heavy and expand opportunities for the organisation to be present in high-growth categories.
"Through this, we will be able to cater to our customers across the infrastructure space in the Indian and African subcontinents. The acquisitions will further strengthen JM Baxi's strategy for long-term growth and enable us to continue being an active participant in the Indian growth narrative."
Adarsh Hegde, joint managing director of Allcargo Logistics, added: "India, today, is looking ahead to bold business targets. Achieving them definitely needs robust infrastructure development, and J M Baxi Group has truly proved its capabilities in contributing to it. Allcargo and J M Baxi are happy to partner with each other in making this transaction successful. This will be good for industry, customers and employees as businesses and capabilities come together. At Allcargo, this exit is aligned with our strategy to focus on Allcargo Group's core business."