Australia's Marr Contracting has been awarded a heavy lift contract to support the redevelopment of Central Station as part of the Sydney Metro infrastructure project.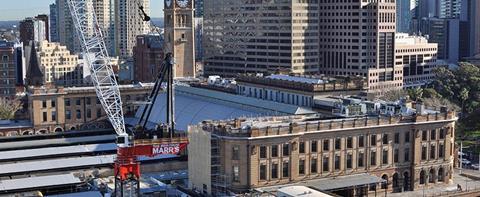 Laing O'Rourke selected Marr to support the lifting operations for the construction of new metro platforms as well as the Central Walk pedestrian concourse for the AUD955 million (USD656.8 million) project.
Marr will deploy one of its M1680D heavy lift tower cranes for the project. It has a lifting capacity of 200 tonnes and a maximum radius of 91 m. According to Marr, "the bespoke craneage solution addresses the challenge of how to provide the heavy lifting capacity the project needs, but within a small space to ensure minimal disruption to daily train and pedestrian traffic".
Managing director Simon Marr explained: "Laing O'Rourke needed a solution that allowed the team to adopt a new method of modularised construction in a confined, live rail environment. The M1680D not only met the criteria to complete the heavy lifting requirements demanded of the construction methodology and programme, but also the lighter lifts associated with general construction activities.
"Our solution also eliminated the need to use a range of different sized cranes to meet the varied scope of lifting requirements, which would have presented a whole new set of challenges in such a confined space."
The Central Station metro upgrade is expected to be completed in 2022.