The latest UK Manufacturing Purchasing Managers' Index (PMI) has highlighted ongoing concerns over the rising cost of energy and raw materials.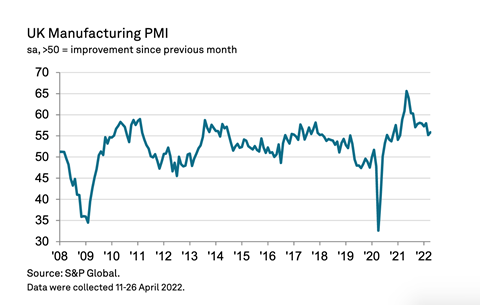 Manufacturing production increased across the consumer, intermediate and investment goods industries. Solid rates of expansion were registered in the latter two categories, while the expansion at consumer goods producers was only marginal.
Companies linked higher production to increased intakes of new business, reduced delivery delays (compared to earlier in the year) and efforts to clear backlogs of work. The outlook also remained positive, with almost 55 percent of companies expecting output to rise over the coming year. However, the overall degree of confidence slumped to a 16-month low.
Inflationary pressures continued to build at manufacturers. Rob Dobson, director at S&P Global, said: "The improved expansion of output at manufacturers, while positive in itself, failed to mask the continued headwinds buffeting the sector at the start of the second quarter. New business growth near-stalled as a slowdown in the domestic market was accompanied by a further deterioration in export orders.

"Manufacturers and their clients are struggling as lockdowns in China and the Ukraine war exacerbate stretched global supply chains, the inflationary picture worsens and geopolitical tensions rise. Specific to the UK, Brexit represents an additional headwind, notably via lost EU customers, increased paperwork, Customs checks and border delays. Business optimism has fallen to a 16-month low as companies become more cautious about the future outlook.

"The inflationary situation is getting increasingly fraught. Input costs rose to the second-greatest extent in the 30-year survey history, leading to a record increase in factory gate selling prices. Around 85 percent of manufacturers reported higher purchasing costs, compared to no reports of a decrease, with several firms simply noting that 'everything' was up in price."