Sarens PSG has been selected by Ocean Winds to handle the marshalling work in Invergordon, Scotland, for the Moray West offshore wind farm.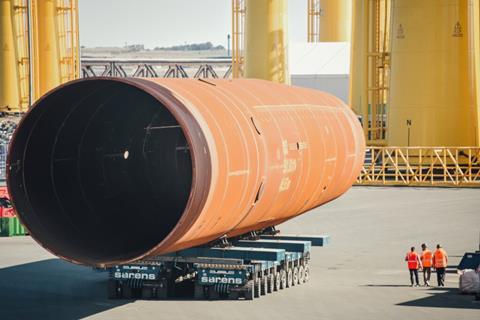 Sarens PSG – a joint venture established in 2022 between Sarens and PSG Marine & Logistics – will handle 62 monopiles at the port, prior to installation at the wind farm site. The monopiles will be among the largest and heaviest of their type to be handled in the UK, weighing close to 2,000 tonnes.
Offloading and marshalling for storage and load out of the monopiles will be undertaken by Sarens PSG using their fleet of SPMTs. They will start to arrive in Invergordon in mid 2023 with installation completed approximately one year later.
Pete Geddes, EPC director for Ocean Winds in the UK, with responsibility for Moray West, said: "Handling the XXL monopiles will be a first. The track record of Sarens and PSG, together with their large fleet of SPMTs, provided key confidence to make this selection.
"We hope that this demonstration of confidence in Sarens PSG supports their investment plans to prepare for the wave of ScotWind sites that are in the development pipeline. This includes the Ocean Winds 'Caledonia' project that should be in construction well before the end of the decade."
Steve Clark, managing director at Sarens PSG, added: "The combination of strategically located deepwater heavy lift quaysides and vast adjacent laydown combined with Sarens PSG's heavy lift and transport experience, engineering capacities, and market leading equipment provision, makes Invergordon and Sarens PSG the ideal and compelling choice for this project and for the delivery of large-scale storage and marshalling of both fixed and floating offshore wind projects."