"China has overcome the pandemic and the economy is booming," reports Chinese-Polish carrier Chipolbrok. It has observed growing demand for Chinese products – from basic materials to consumer goods, industrial units and wind power components.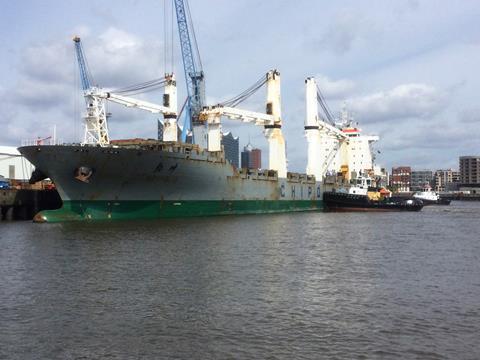 "By all means our fleet benefits from this development," added the carrier. Such is the demand for its services, Chipolbrok has mobilised six charter ships to its roster in addition to its 14 owned vessels.
Although Europe is still somewhat in the throes of the pandemic, Chipolbrok noted that demand for Chinese goods means it presently has eight vessels sailing fully loaded to various locations on the continent.
Qian Kun will soon call at the port of Antwerp to discharge approximately 40,000 freight tons of wind turbine equipment plus smaller liner parcels. Chipolbrok added that, due to the blockage of the Suez Canal, the ship had to deviate around the Cape of Good Hope and then temporarily stop in the Canaries for bunkering before it could continue its journey to Antwerp.
After calling the Belgian gateway, Qian Kun will make its way to Hamburg to discharge a "minor volume" of cargo, before continuing to Szczecin to offload industrial cargo and then Gdańsk to drop off liner cargo, machinery and steel products.
Leopold Staff is another Chipolbrok vessel making its way to Europe, this time to discharge 12,000 tonnes of steel to Rotterdam. This ship will also discharge cargo in Hamburg and Antwerp. 8,000 freight tons of cargoes originating from Masan, including a number of heavy lift units, will be discharged in Poland for the construction of a polymer plant.
Chipolbrok Sun and Chipolbrok Atlantic also scheduled to offload cargoes in Europe before returning to China. At the same time, Adam Asnyk and Paderewski are currently being loaded with equipment in China and Vietnam. Adam Asnyk will soon make its way to the Mediterranean, while Paderewski will call at ports in the northern and eastern Baltic region to discharge wind energy equipment and other project cargoes.