Goeyvaerts has ordered four Konecranes Gottwald mobile harbour cranes for its rental fleet across ports in the Netherlands and Belgium.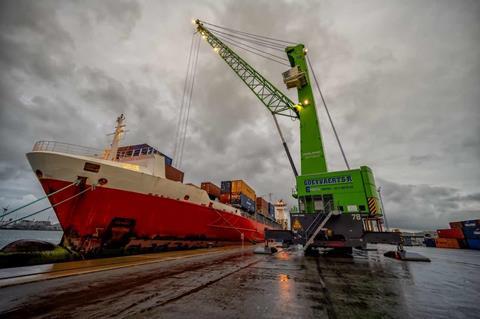 "These new cranes are the right investment for the growing rental market," said Kevin Goeyvaerts, co-owner and chief operating officer of Goeyvaerts. "Konecranes has always provided quality equipment ideal for renting: strong and reliable, eco-efficient and easy to adjust for different customer needs. We're happy to choose them again."
Goeyvaerts' typical customers include startups that want to reduce financial risk as they begin operations, companies that only occasionally need to use harbour cranes, and businesses that require additional capacity for improved commercial flexibility.
Included in the order is one Model 6 GHMK 6507 variant; with a lifting capacity of 125 tonnes and a maximum working radius of 51 m it can handle both breakbulk and containers. Three Model 7 units (G HMK 7608 B) are four-rope grab cranes for continuous-duty bulk handling.