Effective September 2021, Liebherr-Werk Ehingen will power its mobile and crawler cranes exclusively using pure hydrogenated vegetable oils (HVO) fuel.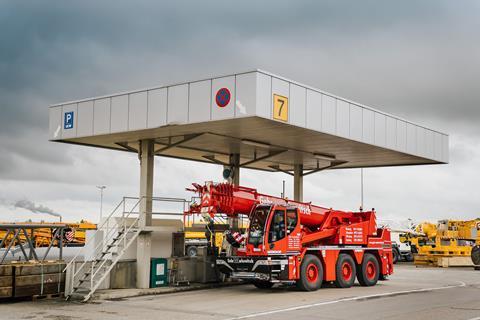 Modern HVO is a synthetic fuel manufactured mainly from vegetable and animal oil, as well as fat waste from the food industry. This is converted into hydrocarbons by adding hydrogen. This fuel has a significantly smaller carbon footprint than diesel and other fossil fuels.
All Liebherr engines up to the 560 KW power class are approved for operation with HVO, said the manufacturer. In the future, this fuel will be used in all Liebherr mobile and crawler cranes. It said that HVO fuel will be used during the crane acceptance procedure, test drives, as well as to the initial fuelling of cranes before delivery, having undergone extensive trials.
Dr Ulrich Hamme, managing director design and development at Liebherr in Ehingen said: "If we consider the entire lifecycle of a crane from cradle to grave, including its production, CO2 emissions from a five-axle crane using HVO fall by 74 percent compared to a crane powered by diesel. This was shown in a study and calculation carried out by business consultancy Frontier Economics. This is an important step in reducing CO2 emissions."
One of the core benefits of HVO is that it is compatible with many existing internal combustion engines. One of the challenges, in part, is the practicability and availability of the fuel. "To make HVO or other synthetic fuels attractive for crane operators, they must be available nationwide and in plentiful quantities at filling stations, as is the case today with diesel. That will not be possible from one day to the next. But Liebherr is making a start, and we are hopeful that it will have a signal effect," said Hamme.
Production director at Liebherr-Werk Ehingen, Ulrich Heusel, added: "Germany has included synthetic, paraffin-based fuels, which do not yet comply with EN 15940 (XTL), in its regulations relating to the quality of fuels. This is why HVO is not yet available at the filling station network. HVO is available at public filling stations for road vehicles in Finland, Sweden, Denmark, Norway, the Netherlands and Belgium as an additive for fossil diesel fuel or in pure form."
Liebherr has also analysed all of its plant transport vehicles at the Ehingen site. The results show that the fleet can also be powered by HVO with a few exceptions. Liebherr is therefore planning to switch these vehicles to the fuel in the near future. "As a result, we will be able to save 2.5 million litres of fossil diesel per year by switching to HVO fuel. That will mean an annual reduction of around 6,500 tonnes of CO2", Heusel explained.