Crane rental company Kran Saller mobilised a Tadano GTC‑1800EX to install concrete columns and footings, each weighing up to 25.7 tonnes, during the construction of a central warehouse for a large e-commerce business.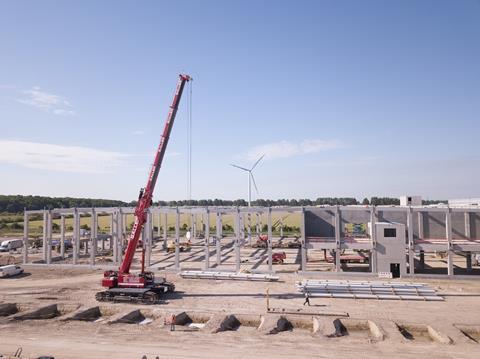 "Our competitors have primarily limited themselves to using the crane for wind power projects to date. However, it's an extremely versatile crane and a perfect choice for conventional work sites, infrastructure projects, and building construction as well. It was the perfect machine for our project in Rostock," managing director Franz Saller explained.
The Tadano crane was configured with the maximum track width of 6 m and the maximum ballast configuration of 45 tonnes of counterweight and 15 tonnes of central ballast. Once set up, the GTC‑1800EX was ready to safely handle the 210 columns in the project.
The concrete columns were brought pair by pair to the work site on a lowbed trailer, after which the GTC first unloaded them and set them down temporarily on the ground. Once there, the Kran Saller assembly technicians replaced the slinging gear with lifting rods that were inserted through pre-made holes in the columns.
Then, the GTC took the concrete columns, which were up to 17 m tall, brought them to a vertical position, and placed the footings in the corresponding foundation holes on the ground. "We repeated this operation endless times – we had a total of 2,400 concrete components and 210 columns to install – so we feel confident saying that we really put the GTC-1800-EX to the test for more than two months with this job," said crane operator Dennis Kase.