Sarens SGCs are built for extreme heights and massive capacities, and they are the future of super heavy lifting.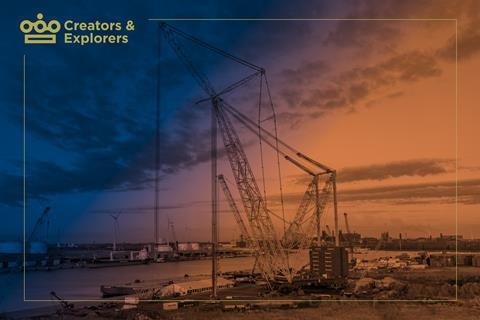 At Sarens, we work on the boldest projects the world has ever seen. So when clients ask for big solutions, we deliver. This drive for innovation has led us to build the mightiest cranes on the planet: Sarens Giant Cranes (SGCs).
Sarens SGCs include the SGC-90, SGC-120, SGC-140, and SGC-250, all built for a world where nothing is impossible. Each is designed in-house and suited to super-heavy lifts across industries as varied as nuclear, logistics, offshore and onshore, bridge installations, civil works, petrochemical plants, and construction.
Sarens SGCs are built for extreme heights and massive capacities, and they are the future of super heavy lifting. At no point in history have we seen so many advances in our ability to build on a larger scale than ever before, and Sarens is proud to be part of this monumental period of engineering ingenuity.
THE ORIGINS OF GREATNESS
As the world aspires to new heights, Sarens is there, matching every ambition to the right crane for the job. Today, that means lifting heavier and higher loads than ever before. And when no cranes existed that could do that, Sarens set out to build them.
Under the inspired guidance of Benny Sarens, Sarens pioneered its first SGC crane, the SGC-120, capable of lifting 3,200 tonnes and reaching boom lengths as high as the Great Pyramid of Giza. This initiative rapidly led to the expansion of the Sarens Technical Solutions department and was instrumental in developing a world-class, in-house team of technical problem-solvers.
With its debut in 2011, the SGC-120 became part of a proud legacy of innovation that spans decades and touches every continent. From the beginning, Sarens conceived the SGC cranes to help clients do what was once impossible—without ever wavering on our guiding principles of safety, engineering creativity, and operational excellence.
THE HALLMARKS OF INNOVATION
Each SGC crane is a ring-based heavy lifting machine capable of reaching extreme heights, setting the standard for state-of-the-art super heavy lifting. Whereas the four cranes vary in capacity, size, and technical specifications, they share common defining features:
Greater capacities, heights, and possibilities. The SGCs were built for extreme engineering challenges, at heights and capacities that would previously have been impossible. The greatest of them, the SGC-250, can lift an astonishing 5,000 tonnes, with a boom that soars 160 m high.
A compact footprint. Thanks to a stable ring design, each SGC takes up a small portion of the worksite while maximising mobility around a 360-degree track.
Low ground-bearing pressures. Even the heaviest and mightiest crane in the world, the SGC-250, maintains low ground-bearing pressures of no more than 25 tonnes per square metre, thanks to several wheel bogies on double-ring beams and spreader mats.
Flexible worldwide transportation and assembly. Sarens SGC cranes can be containerised and shipped anywhere in the world, taking approximately 4-5 weeks for mobilisation of approximately 150-155 containers (400 containers for the SGC-250). The three smaller SGCs take approximately six weeks for assembly, whereas the mighty SGC-250 requires approximately seven to eight weeks.
Innovative counterweight solutions. Once emptied, the containers used to transport each crane can be used as counterweight boxes, filled with locally-sourced material to achieve a total weight of 100 tonne per container. This significantly reduces transportation costs for the client.
INTRODUCING A FAMILY OF CRANES LIKE NO OTHER
Sarens has been proud to help clients achieve some of the greatest engineering feats of our time, thanks to an innovative family of cranes that is redefining what is possible in the world of super heavy lifting. The Sarens SGCs include:
SGC-90 "Little Celeste"
1.650 tonne capacity // 130 m boom // 35 m ring base diameter
The SGC-90 has a tremendous advantage: it is a powerful electric crane that generates its own energy. With a boom reaching up to 130 m, it can lift up to 1,650 tonnes from a compact, 35-m diameter base.
Developed in-house during the Covid-19 pandemic and making its debut in 2020, the "Little Celeste," as it's nicknamed, is the first all-electric crane in the Sarens fleet. It can be fully powered by the electric grid, even generating its own electricity each time it lowers a load. When the SGC-90 is connected to the grid, it can also recover and feed energy back, reducing consumption by up to 40 percent. This environmentally-friendly crane is silent, emits no exhaust, and poses no oil contamination hazards. Its lack of hydraulic pumps, filters, and engines also makes it maintenance-friendly and reliable.
SGC-120 "The Big Benny"
3.200 tonne capacity // 130 m boom // 38,4 m ring base diameter
The first in the SGC family, "Big Benny" was introduced to the world in 2011. Built for massive lifts at millimeter precision, this SGC-120 crane can lift up to 3,200 tonnes as it moves 360 degrees around a double-ring base.
At the time of its debut, the SGC-120 held the honor of being the world's largest land-based crane. By the time it began making its first lifts at the largest manufacturing site in the United States, even President Barack Obama was impressed by its scale, highlighting its size during a speech at the Chandler, Arizona facility. From there, the SGC-120 moved on to a variety of spectacular projects, including the construction of a drilling platform in China, the installation of a nuclear reactor dome, a 1,150 tonne regenerator lift in Indonesia, several heavy lifts at a petrochemical complex, and the load-out and assembly of a 397-tonne wind farm jacket in the UK.
SGC-140 "Big Benny XL"
3.200 tonne capacity // 130 m boom // 38,4 m ring base diameter
Introduced in 2017, the SGC-140 built on the legacy of the SGC-120, with further improvements that redefined what was possible in the world of heavy lifting. Designed to achieve even greater capacities, the "Big Benny XL" is a force of engineering ingenuity: even at a 50-m radius, it can lift an impressive 2,820 tonnes.
The SGC-140 was specially developed for the pivotal TCO project in Kazakhstan, conceived with the client's exact engineering challenges in mind. Geometrically identical to the SGC-120, it boasts more counterweight and internal reinforcements to give it higher capacities. This means that at the optimal lifting radius range, the SGC-140 boasts a 20 percent added capacity compared to the SGC-120.
SGC-250 "The Big Carl"
5.000 tonne capacity // 160 m boom // 48,5 m ring base diameter
In 2018, Sarens presented the largest and mightiest land-based crane on the planet: the SGC-250. Its boom extends up to 160 m and nothing comes close to its 5,000 tonne lifting capacity. Its tremendous power comes with all the features and flexibility of a fully-mobile ring crane with winches and cables, hook blocks, and the ability to slew 360 degrees. It is currently supporting the construction of the UK's largest and most complex civil engineering project, the Hinkley Point C Nuclear Plant, where it first began lifts in 2019. The SGC-250 is scheduled to perform more than 700 lifts at the site.
But the SGC-250 isn't just massive: it's transformational. Thanks to a stroke of engineering ingenuity, the "Big Carl" was designed to relocate from lift to lift, fully-rigged, on retractable hydraulic wheels. This is a first not just for Sarens, but for the entire global crane industry. This innovative design earned the SGC-250 the 'Innovation Award' at the 2019 Heavy Lift Awards. Sarens also received the "Most Innovative Supplier" award at the 2018 Hinkley Point C Excellence Awards, in recognition of its alternative solutions for difficult lifting operations.
A LASTING LEGACY OF INNOVATION
Sarens is proud to be a leader in solving the world's most complex engineering challenges. Our SGC cranes are a testament to our dedication and drive to continuously innovate on behalf of our clients, bringing new and unexpected solutions into the world. This is our legacy, and it is only just beginning.

Sarens' mission is to be the reference point in crane rental services, heavy lifting, and engineered transport. With state of the art equipment and value engineering, the company offers creative and intelligent solutions to today's heavy lifting and engineered transport challenges. With more than 100 entities in 65 countries operating without borders, Sarens handles small-scale to mega-scale projects. It currently employs 4,452 professionals. Safety and excellence are key drivers for Sarens and the company strives daily to establish a safe space for everyone and everything related to its operations. Sarens has been the market leader for over 60 years; over four Sarens family generations are intimately involved in the business. Sarens continues to build the future on the foundations of its rich past and ensures that its clients will always stay ahead of the game when it comes to heavy lifting and engineered transport innovation.
View full Profile