Dortmund, Germany-based Anker Schroeder ASDO has launched heavy lifting shackles, ranging in capacity from 85-1,500 tonnes, in heavy duty (HD), heavy super (HS), and heavy polar (HP) ranges.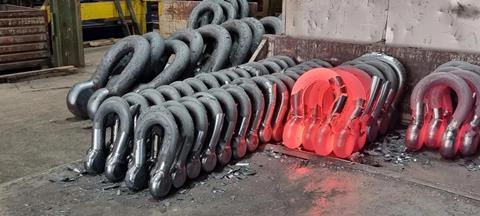 The shackles will frequently combine with load monitoring technologies and below-the-hook equipment in onshore and offshore wind farm applications, said ASDO. Deliveries are already bound for major markets in North and Latin America as well as the Asia Pacific region.
Daniel Schroeder, managing director, said: "Historically, we have rarely sold directly to the market, but to exclusive customers from stock; we often manufacture to project-specific requirements, such as anchorage for harbour construction. ASDO has both the high manufacturing capacity and the processes to cope with anticipated high demand from the offshore wind energy sector, even to short lead times, in an industry that can endure supply chain bottlenecks."
The safety factor of ASDO shackles is fully assessed by in-house finite element analysis (FEA) and confirmed by physical testing during DNV type-approval (DNV-ST-0377 and DNV-ST-0378) processes. The company's shackles generally comply with or exceed design and testing requirements of all guidance, including ASME B30.26-1 and Federal Specification RR-C-271. They are also marked with hard stamped batch code and serial identification, as well as hot embossed markings, including working load limit (WLL), steel grade, and CE mark.
Dr Nina Sverdlova, research and development at ASDO, said: "DNV is one of the most broadly referenced classification societies in our target markets. For lifting appliances, they set minimum requirements for design and fabrication, including traceability of materials, inspection, and testing practices. However, in several areas [ASDO] shackles exceed DNV requirements."
Dr Sverdlova explained that DNV-ST-0377 provides specifications for lifting appliances on board a ship, for load handling within the vessel offshore or onshore. DNV-ST-0378, meanwhile, applies to equipment for load handling, also outside of the vessel/offshore unit, such as in installation operations including wind turbine projects at open sea. She added that DNV documentation provides guidance so that a user understands how to correctly apply, maintain, and inspect equipment.
On request, ASDO can bend shackles up to a 330 mm bow diameter. It does not plan to produce smaller shackles (less than 85 tonnes) as standard.