The Crosby Group has launched the Crosby Straightpoint ChainSafe to protect cargo during transport.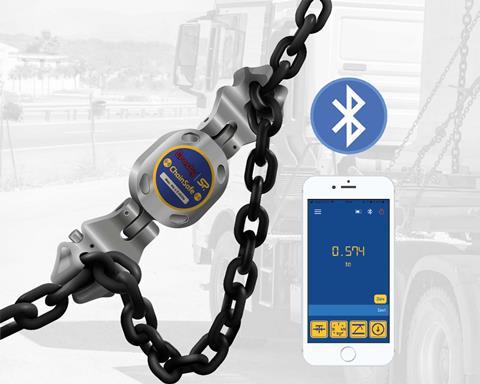 The 4-tonne capacity ChainSafe is a dynamic solution for measuring the load-on lashing, load securement, tie-downs and chain sling legs, and is designed in particular for the transportation and construction industries to secure loads and cargo.
Connected to Crosby Straightpoint's free Android or iOS app, which has real-time overload alerts and reporting for later analysis, the ChainSafe ensures the safety of cargo during transit, Crosby said.
ChainSafe measures the tension on chains, which Crosby said helps to avoid costly breakages and maintenance. It is the perfect combination with a Speedbinder or Lebus Loadbinder to accurately monitor the tension on tie-downs.
Thomas Dietvorst, director of the technology solutions division at Crosby, said: "Transportation professionals, and those responsible for small to medium crane lifts, have already noted the benefits of adding ChainSafe to their lifting and lashing applications and how precious cargo is protected."