South Korea's Dae Eun Enterprise has added a three-axle WingMAX flatbed trailer from Faymonville to its fleet.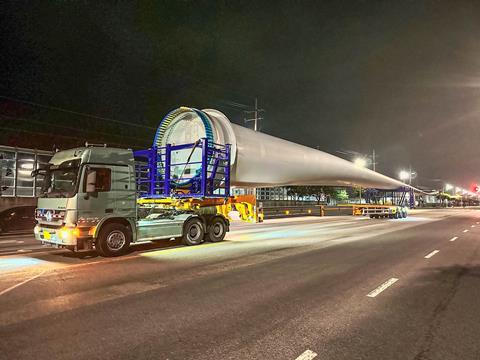 The 20,850 mm-long loading platform can be extended to 69,650 mm, capable of handling the longest wind turbine blades that are being transported, said Faymonville.
This will be a focus for Dae Eun Enterprise, which is increasingly involved in wind energy projects. According to Faymonville, this is a relatively new market in South Korea and transport companies are adapting to the challenge. Dae Eun Enterprise, for instance, contacted Faymonville to acquire the trailer for its upcoming projects.
"With its pendle-axles with 600 mm and the hydraulic gooseneck that is liftable by 1,700 mm, all kinds of obstacles can be mastered," Faymonville explained. "This WingMAX technology enables Dae Eun Enterprise to take its place in the expansion of renewable energies."