Al Faris has transported a 30 m-long absorber vessel in the UAE using Cometto SPMTs.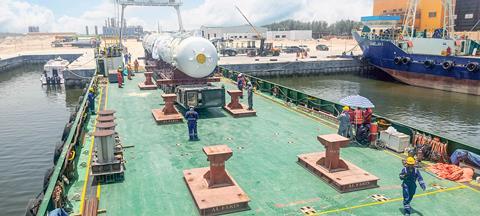 According to Revon Pereira, marketing executive at Al Faris, the 61.5-tonne absorber vessel needed to be moved from Abu Dhabi to the Mubarraz island in a multimodal operation.
In addition to the vessel's length, Al Faris also had to contend with a diameter of 3 m. To accommodate the load, the specialised transport provider used 18 axle lines of SPMTs.
Upon arrival at its destination, Al Faris was also responsible for lifting the absorber. Pereira said: "For the erection of the vessel, it was necessary to make a tandem lift using two Liebherr mobile cranes with a lifting capacity of 800 tonnes and 200 tonnes respectively to erect it on the foundation at Mubarraz island."