To support the build of a new joint support ship (JSS), the team at the Vancouver-based Seaspan shipyard deployed an Enerpac EVO synchronous lifting pump and 12 high-tonnage hydraulic lifting cylinders.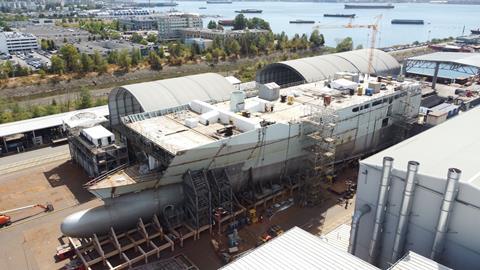 When fully constructed, the JSS will weigh an estimated 10,895 tonnes, and measure 173.7 m long with a breadth of 24 m. Supplied by local distributor Hyseco, the Enerpac equipment provided a more effective way to keep the ship level throughout the project.
The EVO system works using a programmable logic controller (PLC), enabling each of the 12 lifting points to be monitored and controlled by a single operator.
The 12 cylinders used were Enerpac HCG1506-Series single acting models. Each of these are capable of supporting a load of up to 168 tons (152.4 tonnes). They were positioned between the footings and frame assembly supporting the ship.