Enerpac has introduced its ML40 mini lift gantry, designed to move machinery and equipment in compact spaces.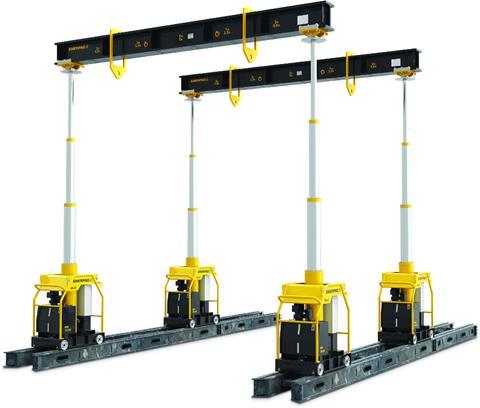 The 40-ton (36.3-tonne) capacity ML40 is compact, making it suited to moving equipment around existing installations, said Enerpac. Its short, collapsed height (1.97 m) and narrow width (0.75 m) means the ML40 can get into hard-to-access spaces. The gantry can also rotate the load (up-end or down-turn) to move through the building.
In addition, Enerpac said the ML40 makes it easy to offload equipment from the delivery vehicle and re-position it for use in the facility. Moreover, the ML40's small size makes it easier to mobilise and its simple set up means even relatively new rigging operators can operate the equipment.
"It is the ideal solution for machinery movers, plant relocation services and medical equipment installers who need to move machines and equipment in compact spaces," Enerpac explained.
The ML40 features standard synchronised lifting and control and load readouts to ensure safe and level lifting. A wireless pendant keeps the operator away from equipment during operation.