Germany's Erdmännchen Erd- und Tiefbau turned to Goldhofer for a trailer capable of handling its plant transportation requirements.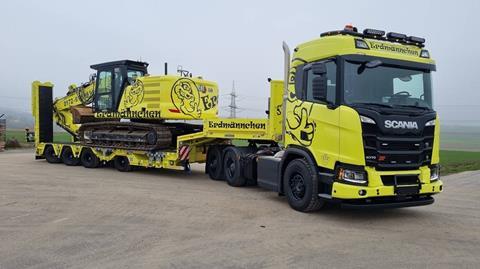 "We did a lot of research before we found the right vehicle concept for our fleet," said company owner Stefan Grau. "Goldhofer has configured a vehicle for us which really leaves nothing to be desired and which we can use to transport almost all our construction plant and equipment within a 16.5 m total rig length."
The self-tracking STZ-L 4 A RM semi low-loader is designed to handle construction plant and materials up to a payload of 41 tonnes. For the transportation of vehicles with big tyres and different wheelbases, the vehicle has lowered outer sections in addition to the wheel recesses on the main loading deck. Aluminium drive-on covers and side extensions are an integral part of the loading concept. With an extremely low loading height of only 845 mm at the deck, even large construction machines have plenty of headroom.
The loading deck is extendable by almost 3 m to provide extra length for long loads and machines. The two-piece rear-mounted hydraulic ramps with hydraulic width adjustment also provide an appropriately low ramp angle for vehicles with low ground clearance.