Germany's Mielke Logistics has added a Kässbohrer lowbed K.SLL 2 trailer to its fleet.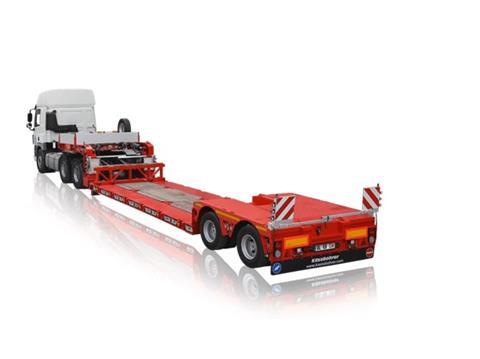 The two-axle K.SLL 2 has a low loading height with a ground clearance of 0.1 m. According to Vincent Koel, Kässbohrer's region manager for north Germany, this provides the maximum height for heavy haulage transportation.
He said: "With the special pool length of 6,810 mm, extension of 5,550 mm and king-pin capacity of up to 24 tons (21.8 tonnes), K.SLL 2 enables flexible transportation of tall and heavy goods. The vehicle is equipped with hydraulic axles of 12-ton (10.9-tonne) capacity each with a turning angle of 42 degrees to provide maximum manoeuvrability under the toughest road conditions."
To shorten the time required for loading operations, the K.SLL 2 trailer is available with a detachable gooseneck, which ensures easier loading operations, added Koel.