Germany's Liebherr has introduced Crane Planner 2.0 – the latest incarnation of its lift planning and visualisation tool.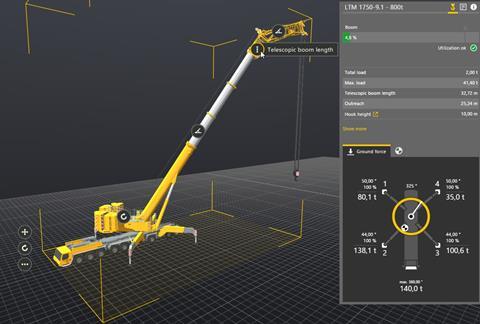 The program now contains several Liebherr mobile cranes, all Liebherr crawler cranes with lifting capacities up to 300 tonnes, as well as hydraulic rope excavators. The software enables the simple but professional planning of a wide variety of crane jobs.
The LTM 1650-8.1, LTM 1450-8.1, LTM 1300-6.2, LTM 1250-5.1 and LTM 1230-5.1 mobile cranes are now included in the program.
Liebherr Crane Planner 2.0 helps users to identify solutions and procedures for their lifting work in advance. This enables complicated heavy lifts with crawler cranes as well as supposedly quick and easy taxi lifts by mobile cranes to be completed safely. The tool combines an interactive 3D visualisation of the machines, the loads and surrounding objects with dimensions, a positioning tool and Google Maps, without the need for expensive CAD programs or high performance computers.
It added that the results of the planning process can be exported in the form of a report and sent to the customer, which means that even small crane contractors can compete for large tenders.
Challenging planning tasks can be completed professionally in 2D using the 'Free' version. The range of functions is similar to the LICCON work planner, said Liebherr. The 'Pro' version also contains detailed, interactive 3D models of the cranes, as well as a library with various 3D objects such as buildings, roads, machines or load objects. Map views from Google Maps and 3D data can be included in the display in the correct scale.