The Netherlands-headquartered Roll Group has purchased a large gantry system to better serve its clients in their heavy lifting activities, while also increasing the group's lifting capacity.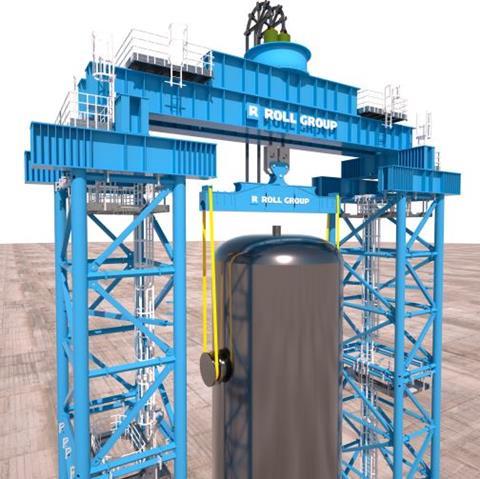 The gantry system – which will be fully Lloyd's certified – consists of several components that can be fitted together in various configurations, meaning the final construction can be adjusted to suit clients' projects.
For its first project in the petrochemical industry, the gantry will be used to install tall reactors measuring over 100 m in length and over 2,000 tonnes in weight, without the use of external guywires.
The system will also be used in the renewables market to assist with the integration of turbine jackets, or the loading out of offshore wind floaters. Further, the system can also be utilised for the installation of goliath cranes, as a temporary support structure for modules or bridges during transport or weighing, or as the heavy support for weighing offshore modules.
Roll Group's ceo, Peter Rondhuis, said: "With this gantry system we can further grow in the heavy lift industry as this system will allow us to enter the market of the bigger land-based projects as the gantries are often combined with crane and SPMT scopes.
"Besides this, Roll Group can offer a full factory-to-foundation solution by combining our fleet of heavy transport vessels, SPMTs, cranes and gantry systems. This reduces overall risks for our clients and provides a single point of contact for the whole operation."
Roll Group said that the system is currently being fabricated and will be operational mid-year.