Germany's Rosslauer Schiffswerft shipyard utilised Cometto's four-axle self-propelled Eco1000 self-propelled heavy-duty trailers to move steel components weighing up to 145 tonnes around its factory.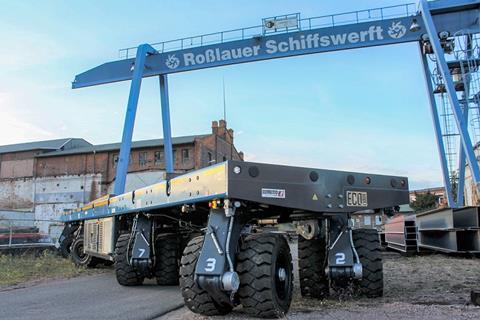 Cometto said that the recently acquired Eco1000 was a replacement for the shipyard's ageing 30-year-old transport technology.
Rosslauer Schiffswerft manufactures steel bridges, locks and barrier gates, and ship sections, in which "the new four-axle Eco1000 now plays a supporting role in these tasks," said Joachim Kolb, sales manager, Cometto.
Peter Talaska, managing director of the shipyard, commented: "After evaluating a market study, the four-axle Eco1000 as a 'long-frame' variant from Cometto precisely met our requirements."
The family-run company currently operates 19 production sites.