Germany-based crane rental company Schuch Heavylift has added eight Manitowoc Grove cranes and a custom-built GMK6450-1 crane to its fleet.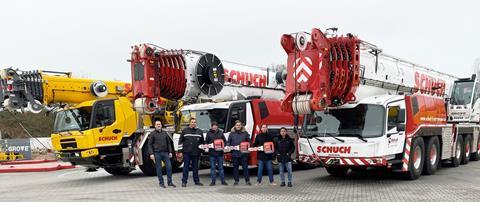 The cranes included two GMK3060L-1s, one GMK5150XL, four GMK5250XL-1 and the GMK6450 -1.
The six-axle GMK6450-1 shares the same design as the Grove GMK6400-1, but with an increased maximum capacity of 450 tonnes.
Like the GMK6400-1, the GMK6450-1 features a five-section 60 m-long Megaform main boom that extends up to 136 m in tip height when fitted with an optional 25-79 m luffing jib.
The crane was also delivered with the optional MegaWingLift attachment, which increases capacities at steeper boom angles, plus luffing and fixed jibs for greater jobsite versatility.