Ter Linden Transport from Doetinchem in the Netherlands was the first to receive the latest MWT-XL mega windmill trailer from Nooteboom.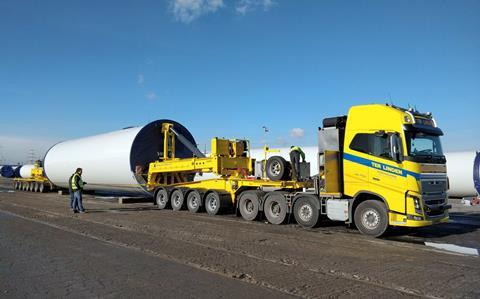 The trailer consists of a four-axle jeepdolly with lift adapter and a seven-axle self-steering dolly with lift adapter. With the MWT-XL, Nooteboom mainly focuses on the transport of large diameter tower sections for onshore wind farms. It can handle tower sections with a diameter of approximately 6.3 m.
The biggest change to the MWT has been made to the self-steering dolly with air suspension. For example, the width of the seven-axle self-steering dolly has been adjusted to 2.84 m. Additionally, the turntable control for the self-steering dolly has been adjusted.
The new steering system, based the Nooteboom Ballasttrailer which features counter steering, also contributes to greater stability, reliability and ease of operation, said the manufacturer.
The increase in ease of operation, safety and efficiency is also reflected in the way in which the tower sections are connected to the lift adapters of the MWT-XL.
Previously the driver had to climb up for coupling and connecting the tower section. This is no longer necessary. After setting the top pressure point of the adapter, the driver can now couple and secure the tower section to the lift adapters standing on the ground using the remote control with extreme precision.