Wind turbine manufacturer Enercon has ordered six rotor blade lifters from under-the-jib equipment supplier ematec.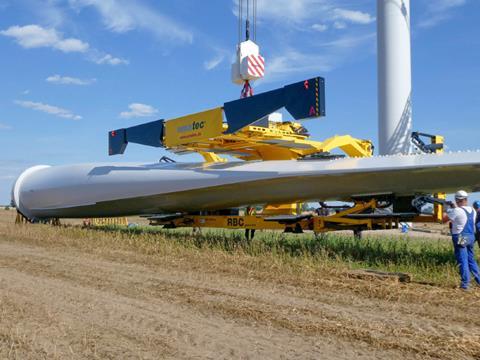 The battery-powered Rotor Blade Clamp (RBC) D-Green-Line traverse systems are able to adjust and balance themselves to the respective rotor blade thanks to an automatically adaptive blade support plate. The technology means the lifters can handle a variety of blades – from those that measure 45 m to the colossal 110 m-long units.
The D in RBC-D stands for double and means that in addition to the lower telescope gripper, the upper gripper is equipped with fourteen hydraulically driven and gimballed grip pads. These grip pads adapt to the individual blade shape.
To ensure a safe handling of the rotor blade, the RBC is able to define its precise centre of gravity. Two counterweights located on the two wings of the rotor blade lifter automatically adapt to the point of gravity – with or without a rotor blade, said ematec.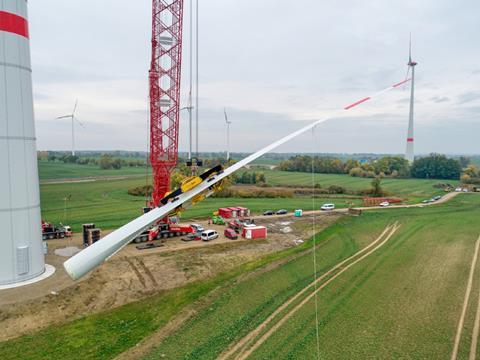 In order to be prepared for all kinds of weather, Enercon ordered its RBC-D traverse systems with special pads. In this version, the rubber grip pads have a coating specially developed by ematec, which enables dirty, wet or icy rotor blades to be handled securely. "Rotor blade assembly is therefore no longer as dependent on the weather as it used to be," said Manfred Eberhard, ceo of ematec.
"Enercon thus minimises the risk of long downtimes and enormously reduces construction site costs. Particularly in Scandinavia, wind turbines are usually installed in winter and assembly workers have to deal with icy rotor blades everyday. This is not a problem for our specially coated grip pads," explained Eberhard.
He added: "Our RBC lifting system is really unique in terms of its technical features and it will revolutionise single blade assembly from the ground up."