Germany-based crane service provider Dietmar Floßdorf has used its Liebherr LTM 1300-6.3 mobile crane to lift two steel boilers for a paper factory in Düren.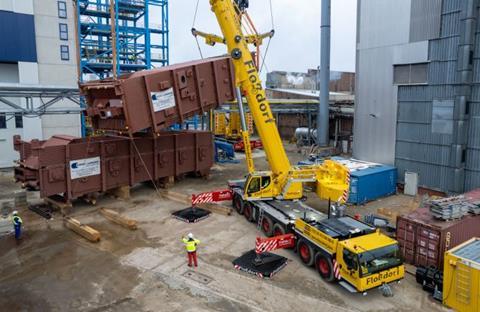 The six-axle crane, which replaced an LTM 1300-6.2 in the company's fleet, has a maximum lifting capacity of 300 tonnes.
Cramped conditions and a pipe bridge running between the pre-assembly site and the installation site posed a challenge for the operation. Liebherr said the customer originally planned to use a crawler crane to lift the two boilers, the heaviest of which weighed almost 100 tonnes.
Instead, Floßdorf chose to position a 700-tonne capacity LTM 1650-8.1 mobile crane directly in front of the power plant construction site, while the LTM 1300-6.3 was used on the other side of the pipes to guide the units into a vertical position.
When it came to inserting heavy steel blocks into the building, Liebherr said there was only a hand's breadth between the load and the steel construction on the side of the boilers, which were around 20 m high. The blocks had to be precisely positioned and then held in place until the load was released after being welded onto the structure.
"The new crane will certainly be used on all kinds of jobs at our company and, if necessary, will be a capable assistant to our LTM 1650-8.1," said Marco Floßdorf, general manager, Floßdorf.