Shortsea operator Longship Group has ordered two Bijlsma Trader 6000 multipurpose vessels from Bijlsma Shipyard in Lemmer, the Netherlands.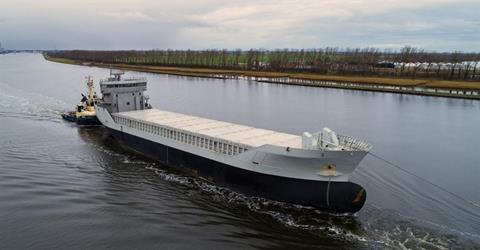 Measuring 103.48 m long, the first ship will be delivered in the last quarter of 2021 and the second in the first quarter of 2022.
The EUR21 million (USD25 million) order was placed by the joint venture between Longship and VMS Shipping Group in which both companies have an equal share. Longship will be responsible for the commercial management and VMS for the technical management.
With a deadweight of approximately 6,080 tonnes and a hold capacity of nearly 270,000 cu ft (7,645.5 cu m), the ships will be capable of transporting heavy cargo.
Michel Cigrang, managing partner of Longship, commented that since joining the company in 2014, there has been a number of changes to coastal shipping "in respect of financing, ownership and most important the environmental aspect of the trade".
He added: "It is paramount for us to find solid financial partners who can assist our growth in making coastal shipping more ecological. Consolidation of our market is inevitable too. I am a strong believer of our growth strategy. The first steps were made end of last year by acquiring 50 percent of Wagle Chartering."