3P Logistics (3PL) has coordinated the transport of oversized project cargo from the port of Sillamae for the Auvere Enefit power plant in Estonia.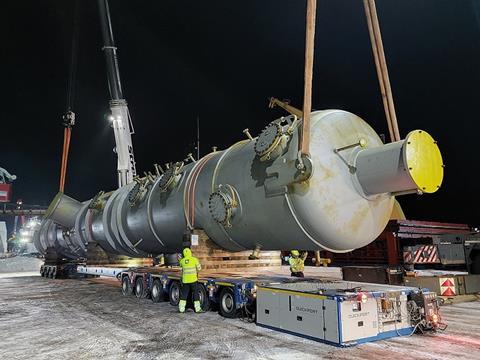 During December 2022, 3PL moved a condensing tower; a heating exchanger; an extra heavy-duty oil collection vessel; and a pre-assembled air cooler, which overall amounted to 33 truckloads of cargo, according to the company.
At the port, 3PL said it used two mobile cranes to offload out-of-gauge (OOG) cargo from the vessel onto trucks and used port cranes to unload other cargoes that weighed up to 36 tonnes.
To move the heaviest cargo – which weighed over 154 tonnes – 3PL said it utilised a 10-axle Scheuerle modular trailer with an extendable beam, a ballast tractor and SPMTs.
The company said that the port imposed restrictions, which included special requirements for crane berth ground loading.
3PL's scope included arranging a route survey, the unloading, port operations, transshipment, storage, permits, and the coordination of the heavy transport.