AAL Shipping has handled four chimney sections, with a combined weight of nearly 500 tonnes, for the Kwinana waste-to-energy (WTE) plant in Australia.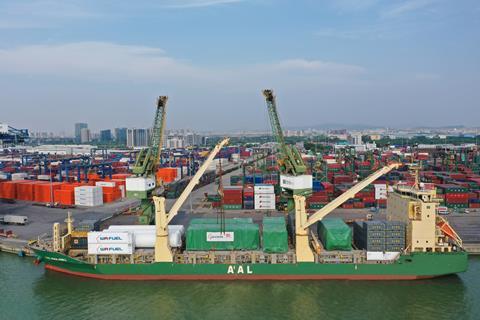 The cargoes were loaded onboard the AAL Nanjing in Humen, China, and shipped on the carrier's Asia – West Coast Australia monthly liner service to Henderson.
According to Jack Zhou, general manager of AAL China, the project had to contend with Chinese Covid-19 restrictions, which created port congestion and slow productivity that resulted in unavoidable delays. "Heavy lifting operations of this kind require many hands-on-deck to assist with executing the complex shackling, lashing and stowage plan. On this occasion, local stevedores were not permitted to embark the vessel, and this caused delays and cost far more time and energy for our crew than would normally have been required," he added.
Frank Mueller, general manager of AAL Australia, commented: "Like the rest of the multipurpose sector, AAL is facing pressure and incentives from container shippers to carry yet more containers on our 'mega-size' vessels, to fill the gap left by container carriers and ro-ro operators. Despite this, AAL will continue to prioritise the needs of our project, breakbulk, and heavy lift partners and our monthly liner services between Asia and Australia are operated for them, as they have been for the past 26 years."