Al Faris Group has transported 30 overflow tanks from Jebel Ali port to the Mohammed Bin Rashid Al Maktoum solar park project in the UAE.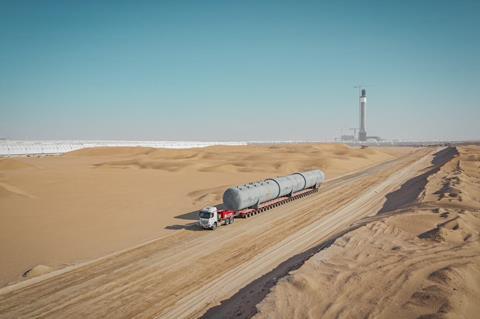 Each tank was 52 m long and weighed 235 tonnes. The items were initially offloaded and stored on stools fabricated by Al Faris at Jebel Ali.
Al Faris deployed Mercedes Arocs truck and Goldhofer THP/SL conventional hydraulic trailers in a two-file, 30-axle configuration, were use to deliver the cargoes to the project site. Two tanks travelled per convoy.
At the project site, a 400-tonne lifting capacity Liebherr crawler crane and other supporting mobile cranes were deployed to lift the tanks, which travelled 100 m before placing the load on its foundation.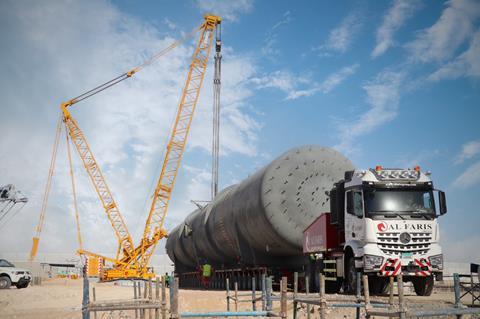 Al Faris said that the biggest challenge was to find a feasible route from Jebel Ali to the solar park. The route was analysed and surveyed by the technical team before the move, and technical support documentation, execution plans, and health and safety protocol prepared in-house.
In addition, significant road modifications, diversions and managing temporary traffic routes were necessary. Temporary bypass roads were also made in order to avoid overhead height restrictions along the route.