Russia-based Barrus Logistics has demonstrated its transport engineering skills with the movement of four reactors from Kolpino, near St. Petersburg to Nizhnekamsk in the Republic of Tatarstan.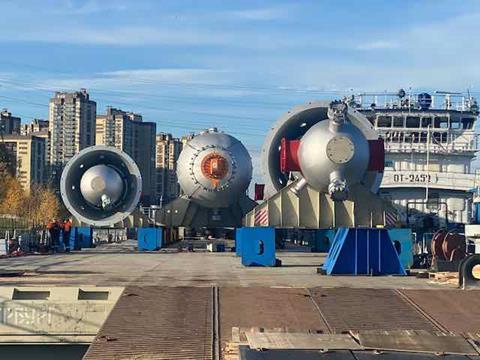 The reactors were built by Izhorskiye Zavody for oil company Tatneft's hydrocracking unit. The items in question were truly out-of-gauge. The first stage reactor measured 53.4 m x 7.8 m x 6.2 m and weighed 1,090.2 tonnes. A second stage reactor (33.8 m x 7.1 m x 5.1 m) tipped the scales at 427 tonnes. A hydrodearomatisation reactor (35.9 m x 4.5m x 4.16 m / 236.14 tonnes) and dewaxing reactor (20.7 m x 4.5 m x 4.06 m / 108.64 tonnes) were also moved to Tatarstan.
The multi-stage project involved crossing railway lines, infrastructure construction to pass tight curves on the route, inland waterway transport, new berth construction, and SPMT transport ahead of final positioning.
The first stage saw Barrus transport the units by road using SPMTs from the workshop to a berth on the Neva River near Ust-Slavyanka. This was carried out over two consecutive nights; the PCh-10 railway crossing was passed on day one, and the PCh-29 crossing on day two, ahead of delivery to the berth.
The reactors were then loaded onto the ro-ro barge Volgo-Baltika, with placement and fasting in accordance with unique ODC guidelines. During loading, the barge was ballasted almost continuously with the help of eight motor pumps.
Ahead of the project, the barge was upgraded by the shipowner in order to accommodate the whole volume of cargo. Transportation to Nizhnekamsk on the inland waterway network was carried out in 20 days.
Discharge at Nizhnekamsk had to be performed at two separate berths, owing to the size and weight of the pieces. The two "lighter" reactors were unloaded by crane at Transkama's berth. The larger two rectors were rolled off the barge at the Nizhnekamsk river port's loading chamber.
Low water levels in the Kama River meant that, ultimately, the two larger reactors had to be stowed at the Transkama berth. These will be moved to site at the start of the 2022 navigation season. The two smaller reactors have been successfully delivered to Tatneft's jobsite.