Swift Worldwide Logistics has tasked BBC Chartering with the delivery of heavy components built by Marketex Offshore Construction for the world's largest diamond mining vessel.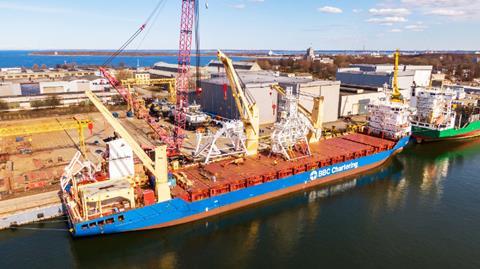 BBC Chartering is moving the components from Estonia to South Africa aboard BBC Pearl. Two towers, weighing approximately 159 tonnes and 214 tonnes a apiece, were loaded at Vene-Balti port in Tallinn, Estonia. The cases and crates with accessories weighed a total of 50 tonnes. Tschudi Logistics acted as port agent in Talilinn.
The cargoes are currently en route to Cape Town, where they will be installed on what is to become the largest diamond recovery ship in the world, according to BBC Chartering.
BBC Pearl is expected to arrive around May 6.