Sarens' SGC 250 ring crane – Big Carl – has lifted a 382-tonne steel ring at EDF's Hinkley Point C project site in Somerset, the UK.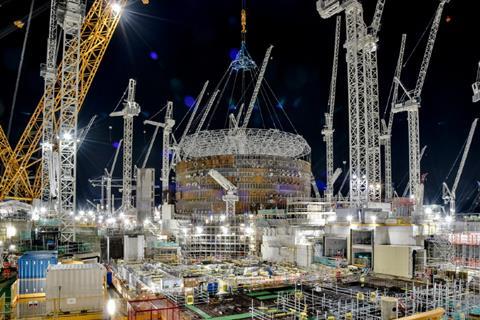 The 17 m-tall ring, with a diameter of 47 m, was first lifted out of a bunker where it had been constructed. Big Carl lifted the steel ring at a reach of 160 m.
Including the lifting gear, the total payload tipped the scales at 575 tonnes. The liner ring is the second of five pieces that make up the steel containment for each nuclear reactor at the site, including the base and the dome.
The lifting operation took place towards the end of 2020 over a period of four days.
Stuart Crooks, Hinkley Point C director, said: "This spectacular lift is a remarkable achievement in a year when everyone has had to make extraordinary efforts to keep the site and community safe from infection. The precision involved is like watch-making on an industrial scale."
Big Carl completed its first lift at the nuclear power station in January 2020, as HLPFI reported here.