Chipolbrok Pacific has called at the ports of Esbjerg, Denmark and Taranto, Italy to load wind energy components for a project in Taichung, Taiwan.
Nacelles, weighing 67.5 tonnes each, were stowed under deck. In Taranto, the 63.12 m-long wind turbine blades were loaded on board in three tiers. The shipment also included 124 packages with a total volume of 21,500 cu m.
Despite the Covid-19 outbreak causing disruption on the project logistics market, Chipolbrok noted that it is continuing to be involved in several shipments of wind energy components.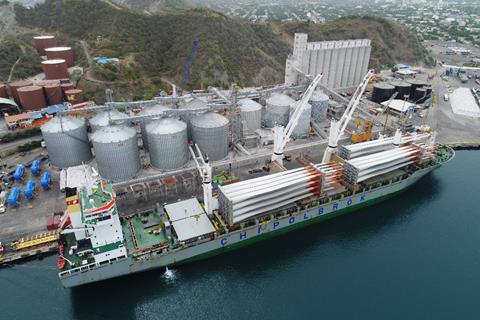 Earlier this year, just before the coronavirus crisis took hold, the multipurpose vessel Qian Kun discharged wind energy components at Sagunto, Spain and Cuxhaven, Germany. In April, Chipol Taian called at Eemshaven in the Netherlands to offload tower sections for an offshore project, while Bao An transported components from Taicang, China to Esbjerg, Denmark.
Chipolbrok added that it is moving shipments of wind turbine blades into the US Gulf and Mexico on a regular basis, as well as to the west coast of the USA and Canada. "Every month, Chipolbrok has a westbound vessel with a full deck load of wind blades," said the shipping line.