UK-based Collett & Sons has completed the delivery of a 184-tonne transformer to Corduff substation, Ireland, in collaboration with Wagenborg.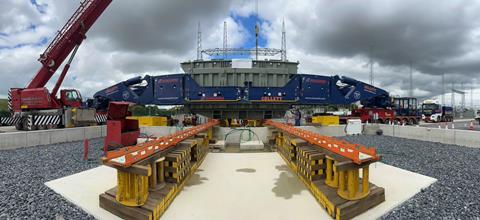 Collett was responsible for the final leg of the project, transporting the transformer from Dublin to the substation. This involved route surveys, transport logistics, offloading and final positioning. The transformer measured 9.3 m x 3.6 m x 4.6 m, the total vehicle length measuring 65.4 m.
Prior to the transformer arriving at Dublin port, Collett mobilised its 550-tonne capacity girder frame trailer and heavy tractor units, which were transported from the UK to Ireland. Once the vessel arrived in Dublin from Rotterdam, Collett was responsible for navigating Wagenborg's 22-axle trailer, loaded with the transformer, from the vessel to a designated transhipment area, where it was lowered onto stools using the trailer's hydraulic suspension.
Subsequently, Collett constructed the girder bridge trailer around the transformer in order to self-load the cargo. The transformer was then transported to a storage area, where it awaited its final delivery.
The delivery itself took place during night-time hours, covering a 13.4-mile (21.5 km) route.
Upon reaching Corduff substation, Collett was challenged with navigating the site. The trailer's suspension was lowered in order for it to pass safely under overhanging cables before the transformer was self-offloaded onto a skid track and skated 16 m onto the final plinth.
Hydraulic jacks were then employed to lower the transformer onto the plinth, where it was moved into its final position using specialised positioning plates.