Cometto's SPMTs were deployed to assist in the positioning of an arch bridge as part of a railway expansion project in Luxembourg.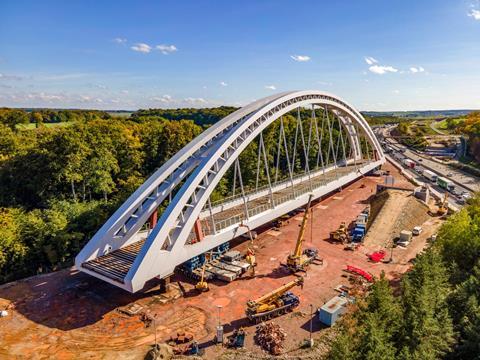 The bridge measured 200 m long, 18.5 m wide, and weighed 5,307 tonnes, and was installed on behalf of Société Nationale des Chemins de Fer Luxembourgeois (CFL), the country's nation rail company.
For the first stage of the operation, transport engineering specialist Sarens lifted the structure to a height of 5 m by performing a 'pack-and-jack' method with hydraulic presses.
180 axle lines of SPMTs were then used to manoeuvre the bridge into position.
Rui Raimundo, CFL project manager, said: "The new project is part of CFL's ambitious expansion and modernisation programme. Alongside the existing line, this supplementary line represents a significant capacity gain for this heavily travelled section of the Luxembourg rail network."
Meanwhile, Germany-headquartered crane rental service company Hüffermann Group has purchased 20 Cometto MSPE model axle-lines.
The self-propelled, electronically steered modular vehicles measure 2.4 m in width with a maximum load capacity of 48 tonnes on each axle.
"Hüffermann now supplements the extensive and widely ramified crane fleet with the extraordinarily powerful Cometto horizontal SPMT transport system with a current payload of 868 tons (787 tonnes)," said Joachim Kolb, Cometto sales manager.
The axle-lines will be deployed on operations in bridge, plant and ship construction.