Tanzania-Zambia Railway Authority (TAZARA) has taken delivery of a 200-tonne capacity well wagon, which will be used to transport abnormal loads such as turbines for the construction of the Julius Nyerere hydroelectric power plant, reports HLPFI's sister publication Railway Gazette.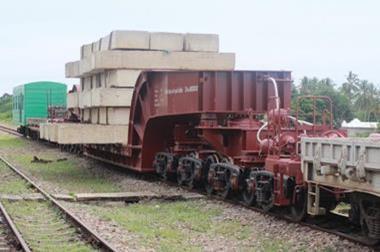 TAZARA's acting chief mechanical engineer Greyson Moilo said the wagon was ordered from CRRC Qiqihar Railway Rolling Stock at a cost of USD1 million.
The maximum capacity of the 1,067 mm gauge railway's conventional wagons is 90 tonnes, while the components of the power plant being built by energy company TANESCO weigh up to 200 tonnes.
There is no paved road connecting the port of Dar es Salaam to the construction site on the River Rufiji, so components are being transported 220 km by rail to Fuga and then 20 km over a gravel road.
"We are now fully assured that all the wide and heavy cargo will reach Fuga for onward delivery," said Deogratius Hondi, TANESCO's procurement specialist for the project, on January 18.