Project freight forwarder deugro has moved 280,000 freight tons of petrochemical equipment from over 35 worldwide seaports and airports for the Long Son A1 olefins plant project on Long Son Island near Vũng Tàu, Vietnam.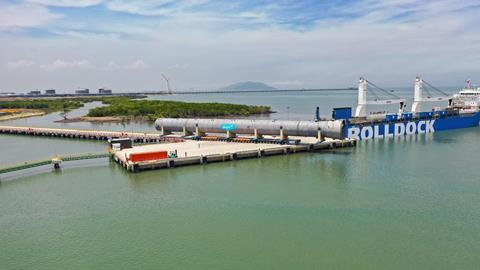 On behalf of its client TPSK – a consortium of TechnipFMC and SK Engineering & Construction – deugro handled more than 1,400 breakbulk, container and airfreight shipments, with nearly 37,000 packages and a total weight of almost 68,510 tonnes. The cargoes originated from Singapore, Belgium, Canada, China, France, Germany, Indonesia, Italy, Japan, Malaysia, the Netherlands, South Korea, Thailand, the UK and the USA.
Nearly 178,300 freight tons of the most critical components were transported on 55 chartered heavy lift vessels.
"All shipments were executed in times of widespread and ever-changing restrictions on short notice due to the Covid-19 pandemic, and with skyrocketing freight rates and severely limited vessels and vessel space capacities," deugro explained.
To keep to the estimated project budget for the client, at an early stage deugro secured the required cargo space and contracted, in collaboration with its partner Roll Group, six semi-submersible multipurpose vessels.
The 24 most challenging oversized/heavy lift components – with unit weights up to 778 tonnes and measuring nearly 100 m long – were delivered from Kuantan, Malaysia.
The biggest challenge, according to deugro, was the transport of a C3 tower from the fabrication yard to Kuantan port. The 6 km journey took nearly 11 hours and was among the largest components ever handled at the port.
"Drastically increasing Covid-19 cases and the associated restrictions in Malaysia and Vietnam led to repeated and last-minute changes in the schedule. Flexibility, coordination and timely communication of deugro's project team with the client, the project owner, the supplier and all partners were paramount to keeping the project on track," said Benjamin Mutti, regional director, deugro Singapore and Malaysia.
"To ensure successful project execution within this challenging scenario, deugro's project teams proactively provided daily status reports and were in permanent communication with the client, the project owner, local authorities and all partners."