India-based Steel Carriers deployed eight Tadano cranes from its fleet to lift a 250-tonne dome with a diameter of 126 m in Rajasthan.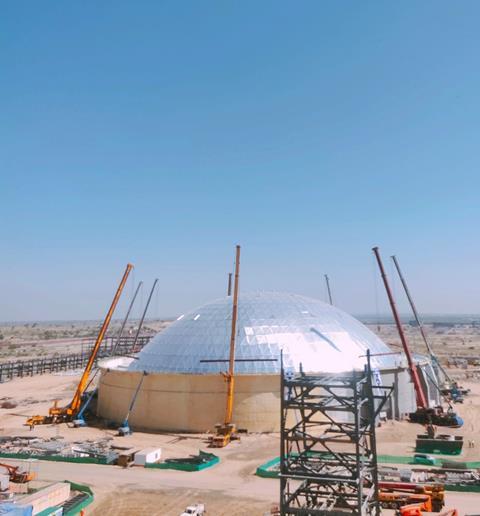 The dome needed to be set down on steel supports at a height of 16 m to cover a coke storage facility. "This was a complex and time-critical job, and the only cranes that could take care of it properly were our powerful Tadano all-terrain cranes, of which we have a large number in our fleet and which we were able to coordinate perfectly for the multi-part lift operation," said Steel Carriers managing director Sunil Makad.
The eight cranes were an AC 1000-9, AC 700-9, AC 500-1, AC 500-2, AC 350-6, AC 350-1, AC 250-1, and an AC 200-1. "The cranes came from Assam, Meghalaya, Gujarat, Maharashtra and Goa. Nevertheless, these large distances didn't prevent us from getting all the cranes, as well as the 22 trailers for crane accessories and two utility vehicles, to the site within just six days thanks to a meticulous project plan," added Makad.
"We set up all the cranes with a standard configuration without extensions, and only the AC 350-1 and AC 350-6 with the Superlift option," he continued.
"The biggest challenge was coordinating the lift with absolute precision. That's why we came up with a sophisticated communication strategy with the help of walkie-talkies between the crane operators, spotters and our lifting specialist in charge."
Perfecting the lift plan took Steel Carriers around two years. The team first had to determine the exact centre of gravity of the load with complex calculations. And to make things even harder, the boom lengths were not the same among all the cranes, making it particularly challenging to keep the dome in a perfectly horizontal position during all the stages of the lift.
The lift itself consisted of several stages: the eight Tadano cranes first raised the dome slightly so that assembly technicians on aerial work platforms could install supports at the edge of the dome. The dome was then lifted a bit more so that the workers would be able to extend the installed supports with additional support elements, and after each partial lift, a supervision team used wall markings to make sure that the dome was perfectly even. This sequence was then repeated until the dome reached a height of 16 m.