An Enerpac push-pull system has been used to construct the Ain Dubai observation wheel in the UAE.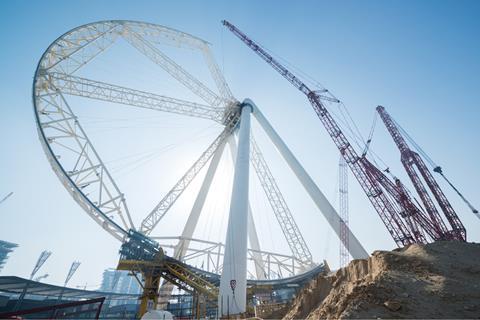 Measuring of 250 m tall, Enerpac said the wheel is significantly higher than other comparable attractions, such as the High Roller observation wheel in Las Vegas, and almost twice the height of the London Eye.
The Ain Dubai comprises a wheel rim, rotating hub and fixed spindles mounted on four support legs. The rim is 240 m in diameter and was assembled from eight segments.
Located at the base of the wheel, a pair of hydraulic grippers pushed the wheel forward, effectively rotating it. The push grippers were then released and pulled back into position using hydraulic cylinders. This push-pull operation was then repeated to complete the assembly.
The wheel segments are welded together as each new segment is added. Ensuring the welding process could be completed smoothly relied on precise positioning of each new segment by the push-pull system, said Enerpac. Using precision hydraulic control, the system was able to bring the wheel rim within a few millimetres of the previous rim, and hold it there, to enable the two segments to be welded together.
The project faced a number of challenges. Enerpac described sandstorms, strong offshore winds, temperatures up to 45°C and steel temperatures in direct sunlight reaching 80°C. In addition to the environmental conditions, the system had to handle loads up to 2,572 tons (2,333.3 tonnes).
The observation wheel, located on Bluewaters Island, will open on October 21, 2021.