Heavy haulier Bricker Transport collaborated with Engineered Rigging to install 220-ton (200-tonne) transformers in Texas.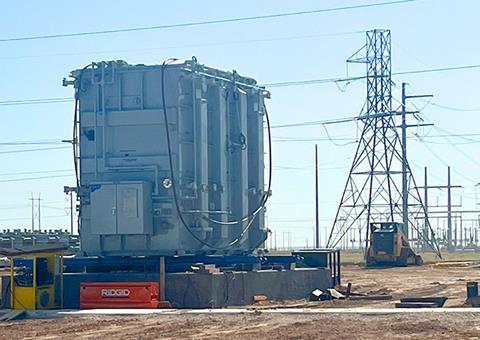 Bricker Transport owns a wide array of heavy haul and rigging equipment but needed the support of Engineered Rigging's skidding system to shift the transformers from their trailers to the pedestals.
John Kuka, director of business development at Engineered Rigging, explained: "The team at Bricker needed a skidding system with a high load capacity and the ability to span from crib stack to crib stack. After a quick discussion of the project specifics, I knew that our power slide 500-ton [454-tonne] system was the right fit."

Within 48 hours of the initial conversation, the Engineered Rigging heavy lifting team prepared the power slide 500, which consists of four 125-ton (114-tonne) capacity load shoes, two push/pull units, a hydraulic power pack and 116 ft (35.4 m) of track.

"When Bricker reached the first installation site in Texas, they realised that the transformer would need to be turned before placement on the pedestal," added Kuka. "We provided a 440-ton [400-tonne] Enerpac hydraulic turntable, which was ready for pick up the next day."
Bricker successfully delivered and installed the first transformer in July 2023, followed by four additional transformers across West Texas.