Italian heavy logistics specialist Fagioli has installed a jack-up system onto the deck of self-propelled Cometto SPMTs.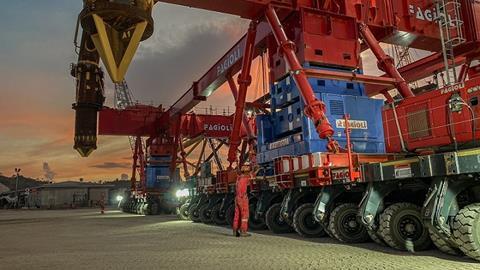 The system has already been used to transport 32 oversized offshore wind farm jackets weighing up to 1,800 tonnes each and reaching up to 80 m high.
It comprises 96 Cometto axle lines with a total payload capacity of 4,608 tonnes; four 2,400-tonne capacity jack-up lifting towers offering an integrated, electronically synchronised system; and specialised modular transport beams fabricated by Fagioli that had a span of 23 m in the standard format.
For the jacking process, modular 'barrels' were inserted into each lifting tower to elevate the jacket by increments of one metre.
Alberto Magni, Fagioli general manager Asia-Pacific region, said: "The jackets were safely transported at the full height, then upon reaching the final set down position on the ro-ro vessel, the jackets are then safely lowered down into the grillage."
The three elements of the jack-up system have the potential to be adjusted to suit other project requirements, said Cometto. It added that the utilisation of such a jack-up system configuration allows for a smooth and cost-effective roll-on operation, as well as internal yard movements in compliance with the standard DNV-GL requirement for load-out projects.
Tomasz Milewski, Fagioli engineering manager for the Asia-Pacific region, continued: "Due to the extreme manoeuvrability of the Cometto SPMTs, this set up can be used in very congested areas. For example, fabrication yards with simultaneous activities and even with a ground bearing pressure equal to 10 tonnes per sq m." In this configuration the SPMT can be used with either a three-point hydraulic suspension or with four-points when a higher level of stability is required.