Kraanbedrijf Nederhoff was on hand to relocate a 70-year-old tree in Alphen aan den Rijn in the Netherlands. Heavy-duty trailers from Faymonville, as opposed to a chainsaw, were used to complete the job.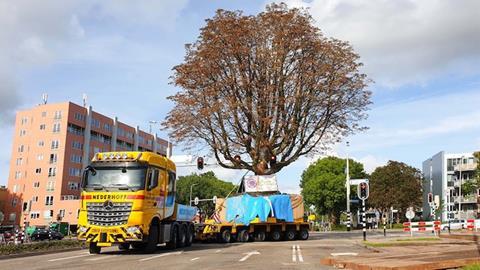 The chestnut tree had to make way for 60 residential units. The roots were carefully dug out and a crane was used to lift the 40-tonne tree onto a ModulMAX trailer combination.
Sjoerd Nederhoff commented on the complexity of the project: "Crossing curbs, dodging streetlights and maintaining balance at the same time requires a stable and compact transportation solution that is intuitive to use. The six-axle module from Faymonville is ideal for a task like this."
After about 1.5 hours, the chestnut arrived at its new home just 115 m down the road. Thanks to the pendle-axles the combination remained safe to drive, and the crane was in situ and ready for unloading.