Austria's Felbermayr has been using LR 11000 and LR 1750/2 cranes from Liebherr to erect 30 wind turbines in Burgenland, southeast of Vienna.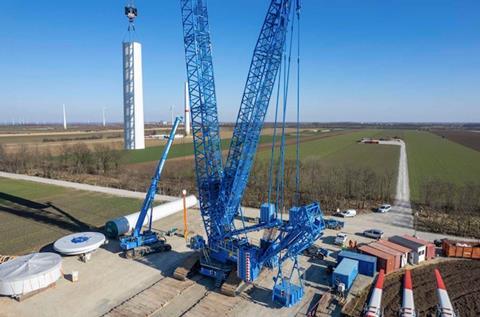 Turbines measuring up to 160 m have been installed over the past few months. The cranes have been used to hoist three steel tower segments onto the waiting concrete towers and then install the gondola, generator, hub and rotor blades.
The work is carried out when the wind conditions allow. For the LR 1750/2, its more powerful SX boom increases the maximum permitted windspeed from nine to 10 metres per second to ensure less downtime during the assembly work.
To ensure that the ambitious schedule is met (all the crane work should be completed by the end of this year), a second 1,000 tonne crawler crane from the Austrian group will arrive shortly to help. The two LR 11000 cranes will then be in action at the same time just a few kilometres apart.
Felbermayr has 13 large cranes with lifting capacity classes of 600 tonnes and over, primarily working on the construction of these massive wind turbines. Another LR 1800-1.0 crawler crane will roll out of the Liebherr factory in Ehingen during May to expand Felbermayr's fleet.