At the start of September 2022, Austria-headquartered Felbermayr undertook one of its most spectacular transport projects of the year.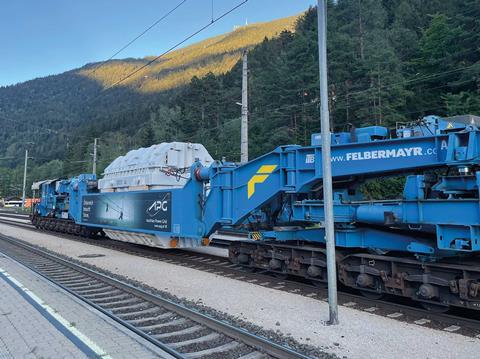 Four transformers for the new Nauders substation of the Austrian Power Grid (APG) were transported to Tyrol from the Siemens Energy plant in Weiz, Styria.
"We have been working on this project since 2017," said project manager Michael Ertl from Felbermayr's international low-loader rail transport (ITB) business unit. The project entered an intensive planning phase two years ago. "As each consignment had a total weight of 420 tonnes, a feasibility study was required," he said.
Among the critical points along the transport route were two bridge structures on the road between Landeck and Nauders. However, in close cooperation between all those involved and with the help of a civil engineer, all problems could be resolved.
To kick transport off, the four transformers (each weighing 155 tonnes) were loaded onto 20-axle railway wagons one-by-one and sent on their journey. "For safety reasons, the approximately 7 m-long transformers were lashed against slipping, taking into account the subsequent transport by road, as there were gradients of up to 10 percent," noted Ertl. The 600 km journey to Landeck station in Tyrol took two days.
The transformers were then reloaded onto trailers for the final leg of the project. "In order to keep the traffic obstructions to a minimum, the stretches covered by road were carried out at night. The first stage began by driving through the Landec pedestrian zone. Including the tractor and pusher units, the heavy transport combination was 70 m long.
Weight distribution was monitored and adjusted along the route, and the loads were lifted and lowered in order to pass crash barriers and enter tunnels. Extensive traffic control measures – such as the dismantling of traffic lights or the temporary removal of traffic signs – was also necessary. In addition, steel plates had to be laid out on both the first and second day to make road shoulders passable. Due to a transport height of almost 5 m, power had to be cut in the overhead power lines on a 46-km stretch of road.
On arrival at the substation in Nauders, the transformer was fitted with rollers, freed from the longitudinal loading girders and brought into operating position using hoists on cross rails.