Vineyard Wind, a joint venture between Avangrid and Copenhagen Infrastructure Partners (CIP), has shipped the first GE Haliade-X wind turbine generator components from the New Bedford Marine Commerce Terminal to its installation location more than 30 miles (48.3 km) off the coast of Cape Cod.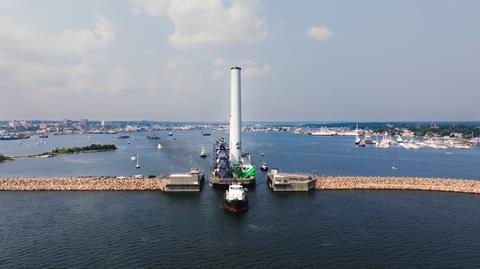 US service contractor Foss Maritime has partnered with DEME Offshore US to design and build specialised US-flagged barges to transport the components to the lease area. Both Marmac and Foss Prevailing Wind, which are 400 ft (121.9 m) long, are able to transport the turbine components in an upright position. The barges utilise bespoke Barge Master technology that uses a control system and cylinders that support a platform and actively compensate the motions of the barge. The wind turbine components are fastened to the motion compensated platform for a smooth ride in ocean conditions.
"It may look easy, but the safe transportation of these components miles over the open water is no small feat," said Vineyard Wind ceo Klaus S. Moeller. "While we've had many firsts, once this turbine is installed, it will stand as a proud symbol of American's energy transition."
GE will initially load Marmac at the New Bedford Marine Commerce Terminal with three vertically placed tower sections reaching more than 200 ft (60.9 m) in height, three 321 ft (97.8 m) blades and a nacelle pod that houses the generating components. Foss will deliver loads weighing more than 1,700 tonnes each to construction partner DEME Group's Sea Installer vessel, which is stationed 65 miles (104.6 km) from New Bedford south of Martha's Vineyard.
Sea Installer, which measures more than 430 ft (131 m) in length and 150 ft (45.7 m) wide, is a heavy lift jack up crane vessel that lifts itself out of the water on legs that are over 300 ft (91.4 m) in length. Once elevated, the vessel becomes a platform where the recently upgraded crane, now capable of lifting more than 1,600 tonnes, can install the tower sections, nacelle and blades for each turbine.