Tugdock has signed a memorandum of understanding (MoU) with Salamander Offshore Wind to collaborate in research and innovation related to the development of technologies and supply chain for floating wind energy in Scotland.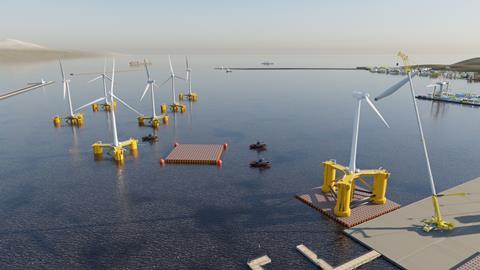 Salamander Offshore Wind is a joint venture development project between Simply Blue Group, Ørsted and Subsea7 and will be located offshore from Peterhead in northeastern Scotland. Salamander Offshore Wind has signed an exclusivity agreement as part of Crown Estate Scotland's Innovation and Targeted Oil and Gas (INTOG) leasing round.
Tugdock's technology consists of a modular, road transportable frame using patented air lift bags that are filled and then vented using compressed air. By confining the air lift bags into a frame and deck arrangement, the product can be used as as a buoyancy module or submersible platform. Tugdock said this technology enables floating offshore wind turbine substructures to be built or assembled and the turbines integrated in ports with water depth or space restrictions. It is a lighter, shallow drafted, quicker, and more cost-effective alternative to a steel hulled barge or floating dock.
Shane Carr, ceo of Tugdock said: "The objectives of this exciting collaboration are for Salamander Offshore Wind and Tugdock to jointly develop innovative knowledge and technologies to accelerate the development of floating wind energy. This is currently a fast-evolving industry around the world. We are delighted to have agreed this forward-looking collaboration and we are confident that it will lead to significant progress."
In June, USA-based maritime company Crowley invested in Tugdock. The two companies will explore the potential use of the Tugdock Submersible Platform (TSP) in locations such as the US West Coast, where depth and conventional drydocks may be ill-suited for the logistics required. In February, Tugdock formed a partnership with Sarens to accelerate the development of its solution for the floating offshore wind industry.