Dachser Peru – a subsidiary of global logistics provider Dachser – has delivered two locomotives from the port of Houston in the USA to Lima, Peru.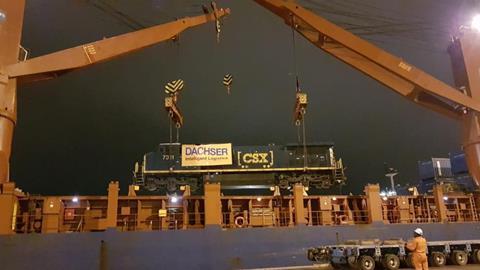 One of the first challenges of the project was selecting an appropriate vessel that had adequate crane capacity to lift the 180-ton (163.3-tonne) locomotives. Dachser then oversaw the loading of the units in Houston and the offloading at the port of Callao (Peru), which was completed using the ship's own cranes.
This was followed by the road transportation to the customer's facility in Lima. Dachser subcontracted this part of the project to a local heavy haulier that had the required equipment and was able to transport the heavy units through the streets of Callao and surrounding neighbourhoods.
Upon arrival at the customer's facility, Dachser coordinated the discharge of the locomotives from the trailers onto the railroad track using two heavy lift cranes.