Sarens handled the transport and installation of 25 pieces of equipment for a gas-chemical complex in Atyrau, Kazakhstan. The project was more than one year in the planning.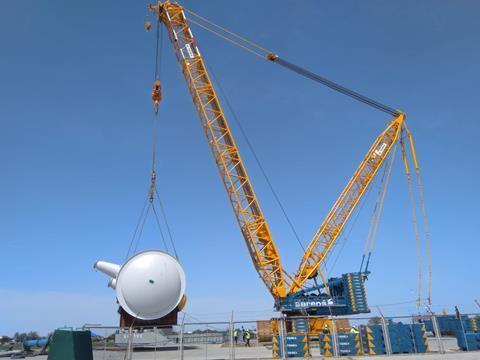 The equipment included four propane tanks that measured 50 m x 10 m x 12 m; three columns; two heat exchangers, and eight reactors with accompanying accessories. Cosco contracted Sarens to complete the works for the Kazakhstan Petrochemical Industries (KPI) plant. Sarens oversaw offloading, transportation, storage, and construction operations, which were carried out between April and July 2020.
The heavy lift specialist deployed a Terex/Demag CC6800 crawler crane to lift the components at a 20 m radius onto SPMTs at Atyrau port. It also deployed a Demag AC500 mobile crane, a 44-axle Kamag SPMT combination, a Tadano RT 80 rough terrain crane, a multi-axle conventional trailer, lowbed trailers, and stools and transport beams for the project.
The components were transported in five convoys over the course of five weeks.
The convoys needed to travel through the city centre – 10 km from the port – then onwards to Kazakhstan Petrochemical Industries' (KPI) plant. Each journey took almost three days. Upon arrival at the site, the trailer was unloaded then travelled back to the port for the next trip.
Sarens' project scope also included some installation works. The four propane tanks were installed onsite using SPMTs by installing an additional saddle and moving the SPMT in a 90-degree position.
Sarens said extensive planning went into the operation. Sarens had to remove 120 lamp posts, more than 200 overhead power line cables, 24 traffic lights, 48 pedestrian light poles, four traffic camera racks, 20 communication cables, two major hot water supply pipes, and a railway gate.
A major challenge was transporting all equipment and performing road preparation and improvement work during the ongoing Covid-19 pandemic. Every team member had daily temperature checks and Sarens implemented safety measures to reduce contact. Although the client had planned to come to Kazakhstan during the operation, the pandemic necessitated work by phone and Skype.