Höegh Autoliners has shipped three 45 m-long rotor blades from Santander, Spain, to Melbourne, Australia, on behalf of DSV Projects Portugal.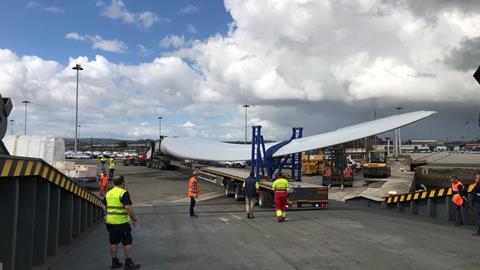 DSV transported the blades by road from Portugal to Spain, where the cargoes were loaded onboard Höegh Trotter – part of Höegh's New Horizon fleet.
Höegh explained that due to the length of the blades, it was not possible to transport them on rolltrailers. The blades were instead driven onboard the vessel on road trailers and placed directly on the vessel's deck.
Roger Duran, cargo superintendent at Höegh, explained: "Our solution was based on a concept we used previously to successfully ship 33 m-long wind blades; fitting extra beams, specific to the shape of the cargo to provide additional support during both the loading and ocean transportation.
"With the extra beams welded on the rotor blade's transportation cradles, it allows the cargo operations team to expertly move the blades from both ends, directly from the road trailer using forklifts working in tandem, on to the vessel's deck," Duran added.