Jan De Nul Group has completed the installation of two wind turbines at the Coastal Virginia demonstrator offshore wind project.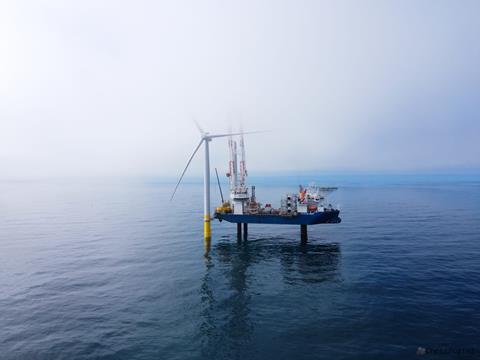 Two 6 MW turbines were installed 27 miles (43 km) off the coast of Virginia (USA) using the offshore construction vessel Vole au vent and the multipurpose ship Adhémar de Saint Venant.
Roll Group shipped the wind turbine components for the offshore wind farm earlier in 2020 as HLPFI reported here.
Jan De Nul oversaw the transport and installation of the foundations – which comprise of a monopile and transition piece – as well as the turbines themselves and the procurement and installation of the scour protection.
The offshore jack-up vessel Vole au vent delivered the installation works. It was assisted by Adhémar de Saint Venant, which installed the scour protection.
Ørsted Wind Power North America selected Jan De Nul Group to perform the works. The Coastal Virginia offshore wind project, owned by Dominion Energy, is only the second offshore wind farm in US waters.
Philippe Hutse, offshore director of Jan De Nul Group, said: "After having expanded into Asia with the completion of the Formosa 1 phase two project and with two further offshore wind projects under construction in Taiwan (Changhua and Formosa 2), we are proud to have been able to support Dominion Energy and Ørsted in the US."